To the ontrol program for an S7-200 CPU consists of the following types of Program Organizational Unit (POU): Main program, Subroutines, Interrupt routines.

How to set and unlock POU password S7-200 use Step7 MicroWin V4.0 Software SP9 also free POU Unlock Software.



Setup a POU Password

Step 1: Use Step7 MicroWIN V4.0 program open the project. Right click on a POU > Properties… > Protection tab

Step 2: Tick on "Password Protect this POU" box

Step 3: Type the characters to "Password" and "Verify" (These values are the same)

Step 4: Click "OK". Close and save the project to apply the password.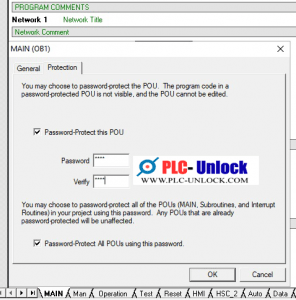 Remember:
When you right-click on the "MAIN" POU, you will see an option:- "Password protect All POUs using this password". If you tick on this box, your password application to all POUs, the POUs already a password will be using the old password begin.
How to Unlock POU Password S7-200
Why we are do it
To see code, edit the program

Some programs writes by you: Maybe forgot the password.

The program writes by other people: You can not contact the programmer.

We do not encourage it, if you can contact the programmer.
============================================================================================================
How Disable Step by step
—————————————————————————————————————————————————————————————–
Step 1: Check Step 7 MicroWIN V4.0 Version on your computer. This tool only supports the version V4.0 Service pack 8 (SP8) or Service pack 9 (SP9)

—————————————————————————————————————————————————————————————–

Step 2:  Download the tool at the end of post.

——————————————————————————————————————————————————————————————

Step 3: Open the path: "C:\Program Files\Siemens\STEP 7-MicroWIN V4.0\bin". Rename file "datamanagers200.dll" to "datamanagers200-backup.dll"

——————————————————————————————————————————————————————————————-

Step 4: Extract the downloaded file. Copy file "datamanagers200.dll" to C:\Program Files\Siemens\STEP 7-MicroWIN V4.0\bin

——————————————————————————————————————————————————————————————-

Step 5: Open the project you need unlock POU password S7-200. Enjoy it!

——————————————————————————————————————————————————————————————–
V4.00 SP8 : Download
V4.00 SP9 : Download